Granite Prestressed Concrete Limited was founded in 1988, adding hollowcore prestressed slabs to Rainbow Concrete's extensive product line while becoming Northern Ontario's only hollowcore producer.
The addition of Granite Prestressed allowed Rainbow to supply and install a range of products including hollowcore slabs, insulated concrete wall panels and commercial stairs.
GRANITE PRESTRESSED PRODUCTS
Precast hollowcore slabs can be manufactured to meet all shapes, sizes and design demands ideal for warehouses, manufacturing plants, schools, retail, office buildings, recreational facilities, hotels/motels, multi-family residential, parking garages, bridges, infrastructure and virtually any other application. These precast components can provide the total concrete solution as they are quickly installed in all weather conditions and offer superior strength, durability and sustainability.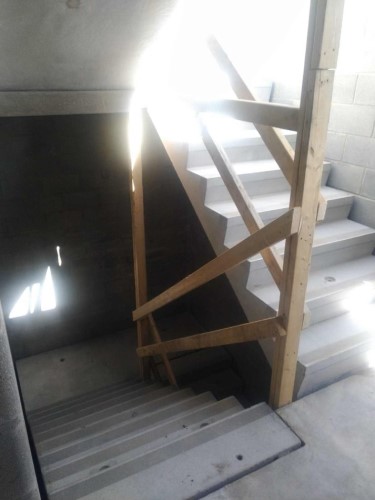 Granite Prestressed makes stairs and landings for a variety of structures including office buildings, schools as well as multi-level apartments and condos. Ideal for indoor or outdoor use, these stairs are durable, maintenance-free, cost effective and safe. For increased safety, non-slip treads are available. Available in widths up to 58" with a maximum of 22 risers.
Precast insulated concrete sandwich wall panels consist of two reinforced precast concrete wythes with a continuous layer of rigid insulation in between. Precast panels are available in a range of widths, lengths, thicknesses and finishes. Some of the many advantages to this type of precast include:
• Durable composition
• Higher resale value
• Excellent insulating properties
• Fast installations
• Greater fire resistance
• Lower sound transmission
• The ability to act as a load-bearing element
@SOURCE ENERGY WALL PANELS
The @Source Energy Wall is a precast, prestressed concrete wall panel with Photovoltaic (PV) cells cast into the face of the wall, and a thermal heat recovery system embedded in the concrete. The @Source Wall generates electricity to be used in the building or sold to the electrical grid, providing a revenue source to the owner of the building.
Rainbow Concrete is a licensed manufacturer of @Source Energy walls.
Granite Prestressed offers quality custom precast solutions for any unique project. Some of the custom products our dedicated team can offer include but aren't limited to slabs, girders, trenches, balconies, bleachers, fencing and more.
CONTACT YOUR GRANITE PRESTRESSED SALES REP FOR MORE INFORMATION